As Earth Day is rapidly approaching, I would like to recommend a fun read for kids. Bluebird and the Nature Squad help to teach kids about the importance of caring for our environment. Knowing what things are unnecessary and what things are actually useful for nature is paramount. I had no idea that blue birds prefer to nest in dead trees. Culling our forests of all dead growth deprives them of their natural habitat! It reminds me of a book I read when I was young called Small Pig about a Farmer's wife with what amounted to OCD. Wanting everything to be super clean, she took her handy-dandy vacuum and cleaned up the pig-pen, mud and all! The poor pig about went crazy trying to find some mud and the farmer's wife finally realized her mistake. Similarly, Bluebird doesn't know what to do when he can't find a dead tree to build a nest in.
Get ready to celebrate Earth Day with this fun team of animal friends! Bookscoops.com will be hosting an interview with Joel Seibel, the illustrator of Bluebird Finds a Home on Earth Day, April 22nd 2011. As part of his book tour, Joel is offering a signed illustration for giveaway and Ryan Jacobson will be offering a signed copy of Bluebird Finds a Home. Be sure to check back here on Earth Day for your chance to win!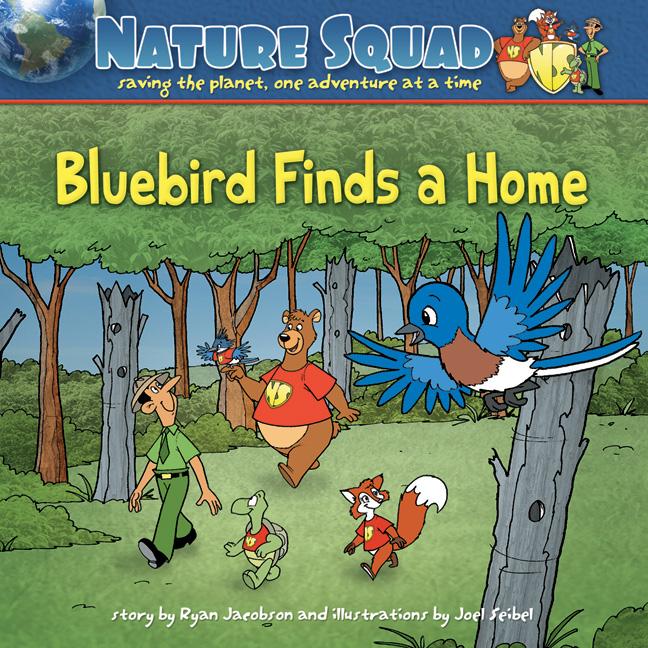 If you are looking for a fun Earth Day activity, there are great instructions at the back of the book for building a bird house too!
**Special thanks to Adventure Publications for the review copy of Nature Squad Bluebird Finds a Home.