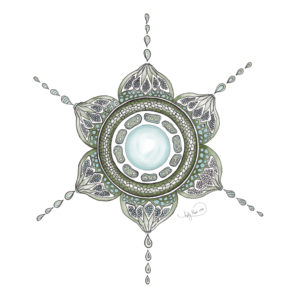 This Mammary Gland Mandala is based on an anatomical cutaway of a lactating breast (I know some of you think I am crazy for doing this- but hang with me. I have a really good reason). Here's the story… One day, not very long ago, some amazing Tibetan monks came to the College of Idaho campus. They created a gorgeous sand painting/mandala for the purpose of healing and blessing our area (see the picture below).
They began this days-long event with a prayer to clear all negativity.
It was Amazing!
They also let the community members (like me) work on our own mandala (we were nowhere near as good as they were, although their tools were better). It was fascinating to be able to watch them work with the colored sand- they are so meticulous! See how amazing that looks?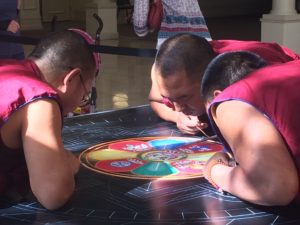 I wanted to see if I could have a healing experience of my own, by following their example.
But, what did I need to heal?
This was before the time of the #metoo movement and even before the #treeoflife #brelfies. But, I had grown up, like all of you in a society full of objectification, and I internalized a lot of shame with regard to female bodies. I have long been a fan of the Beauty Redefined gals and wanted to create a piece of work that celebrated something unique to women's bodies- the power of nurturing life. Now some have argued that anatomical drawings are objectification in and of themselves, and I guess there is an argument for that. But any representational art could be argued as objectification. It's all in the eye of the beholder.
What do you see?
Following the monks' example, I too began and continued throughout the process with a prayer to clear negativity. I drew by hand- first in pencil, then in ink. I scanned my line work into a computer and digitally extracted the line and then began to experiment with color. After much trial and error, I finally landed on blue and green. Why, you may ask? As you may have noticed in the photo of the monks above, they used a lot of yellow and red, and with good purpose. According to the site, Tibet Travel, in Tibetan buddhism, colors have specific meanings.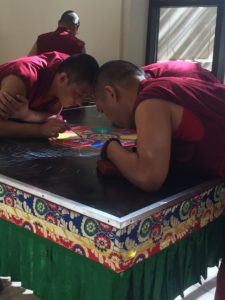 Blue is the color that can help one transform anger into wisdom and provide healing. Also, green represents nature. And…
We all know that Mother Nature probably has breasts, right? 
Right.
(Plus, in a super scientific, quick poll of my instagram followers (after the fact) most of them said they prefer blue and green in their home decor. I hope you love the blue and green as much as we do!)
Do you want to know the best part?
The best part is… it's a beautiful mandala whether you know its purpose or not. And many people have no idea what it's really about. You decide who gets to know. You can use it as an opportunity to educate people about breastfeeding, open up conversations about healing… so many options! You might find it fun to see how awkward some people get when you tell them what it's really about.
Do you want to know the other best part?
When you tell people what it's about and…
they get excited!!! 
This mandala encompasses the healing intentions of women who want to reclaim health and wholeness for themselves and their communities. And that is something to get excited about.
Thank you for helping to celebrate and empower women!
A portion of the profit of the sale of every Mammary Gland Mandala print,  is donated to the Idaho Breastfeeding Coalition (IBFC) to fund education and awareness. Each fine art quality giclee print is locally made on luxurious cold press watercolor paper and is available in 3 sizes (or as a blank greeting card so you can share with someone you love!)
and pat yourself on the back for doing good and scoring awesome art!
Now that you've heard the story, what do you think?
Now that you've heard the story, what do you think about my Mammary Gland Mandala?  Do you think it's healing or just weird? Does it feel objectifying to you? Do you think others would find it that way and if so, why?