Crispin: The Cross of Lead
I read and enjoyed this book many years ago, I re-read it just before reading the sequel, Crispin at the Edge of the World. A fascinating tale of murder and deception, the Cross of Lead traces the journey of a young boy struggling to discover who he is and why he has been proclaimed a "wolf's head", which means he can be killed on sight, no questions asked. Afraid to venture beyond the medieval village he has known his whole life, Asta's son recognizes how little he knows when he meets the juggler named Bear. As Bear questions Asta's son, and encourages him to use his own wit, Crispin learns that he has more potential than he ever imagined.
Crispin: At the Edge of the World
I enjoyed the sequel to the Cross of Lead, which follows the further journey of Bear and Crispin as they dare to sail away from England and escape the attackers who are hunting them without mercy. The people they find to help them along the way are genuine characters that add depth and perception to the story. Bear now acts as father to two children who trust him with their lives. Faced with impossible decisions and difficult situations, this is another successful spell-binding Avi tale. I look forward to reading the third and final volume of this planned trilogy!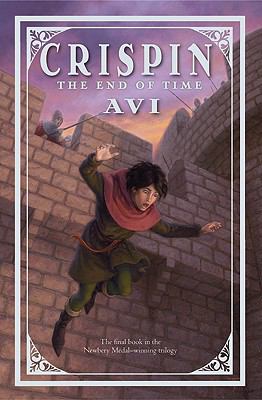 Crispin: The End of Time
I was excited to find out what happened to Crispin in this, the last installment of the Crispin series. Crispin's life has been one never-ending adventure since he left home as the wolf's head in book one. The adventure continues in the foreign land he and Troth find themselves alone in. Set in a middle-ages environment, Crispin's life story is fraught with danger and his life doesn't slow down one bit in the last book! Once again escaping murderers and thieves, Crispin's last tale will give readers the satisfying ending they desire and still leaves the door open for more tales, if Avi should change his plans. Avi has created a fun series for upper elementary students that will leave them with a great appreciation for the safety and security we enjoy in our civilized world!