Interview with Diane Zahler
Can you tell us a little about your new novel, A True Princess?
A True Princess is loosely based on the Hans Christian Andersen tale "The Princess and the Pea," and its dangerous elves were inspired by Goethe's poem "The Erl-King."  It's the story of Lilia, a girl brought up by a shepherd and his family. She leaves the farm to travel north to find her family, and her two friends, Kai and Karina, make the trip with her. Their journey takes them through the dark and dangerous Bitra Forest, where they stumble into the kingdom of the evil Elf-King and his beautiful daughter. When Kai is taken prisoner by the elves, Lilia knows that she must find a way to save him. Her quest takes her to a castle in search of a magical jewel – but another search is taking place at the castle, a search for a true princess.
Were you a fan of fairy tales as a child?  What is your favorite?
I loved fairy tales and fantasy. I read all the Andrew Lang fairy tale collections — the Yellow Book of Fairy Tales, the Red Book, the Blue Book – if there had been a Puce or Vermillion Book, I'd have read those! "The Twelve Dancing Princesses," which inspired my first novel, The Thirteenth Princess, was always one of my favorite stories.
Have you learned anything about yourself through your characters?
When writing both The Thirteenth Princess and A True Princess, I reacquainted myself with the girl I had been when I first discovered fairy tales. That girl craved magic in her own life and found it in the books she read. I realized that the longing for magic has never really left me. Now, though, I can find magic not only in the books I read but in the books I write.
What has been the most challenging aspect of writing the book?  Was it difficult to re-imagine "The Princess and the Pea" to fit in with how you visualized the story?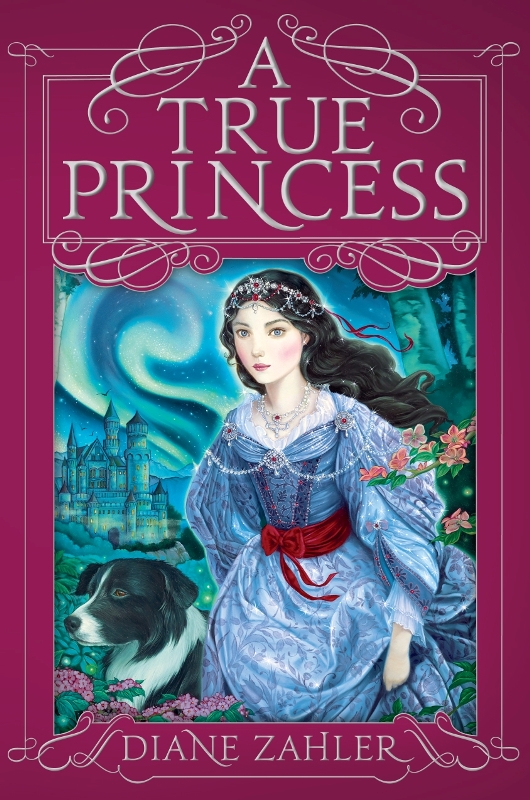 A True Princess was the first book I've been able to write without having to stop to do other projects. I found the story flowed very easily – though that's not to say it didn't have to be revised. And re-revised! The story only uses "The Princess and the Pea" as a jumping-off point: it also includes Nordic myth, heroic falcons, fierce wolves, a dog who was based on my own dog, and a touch of romance. I'm a fan of heroines who take charge of their own destinies, and Lilia does just that. As the story begins, she doesn't know who she is or where she is going, but as her quest progresses she discovers more than that: she learns the extent of her own strength.
Can you share a few details about your next project?
I've finished a third fairy-tale novel called Princess of the Wild Swans. It's based on "The Wild Swans," a story that both the Grimm Brothers and the Hans Christian Andersen treated. Watch for it in 2012! And I'm hard at work on a fourth novel, also based on a fairy tale.
Bookscoops Giveaway Details
The lucky winner will receive one hardcover copy of A True Princess, courtesy of Harper Collins. This giveaway ends on February 19, 2011 at 11:59 pm, mountain standard time and is only available to people living in the United States.
To enter the giveaway you may:
Leave a comment about your favorite memory of reading fairytales for one entry.
Write a blog post about our author interview and giveaway and tell us about it in a comment for one entry.
Leave a comment about what you like most about our interview with Diane Zahler for one entry.
Leave a comment on Holly's review of A True Princess for one entry. Comments already posted will be automatically entered.
Post about our author interview and giveaway on Facebook or Tweet about it, and tell us about it in a comment for one entry each.