All my children love Bedtime at the Swamp and The Middle Child Blues by Kristyn Crow. My favorite part about these books is that they are so fun to read out loud.  These two books are some of our favorites. I had to go out and buy my own copies after receiving these copies for this giveaway. My kids love them so much that they quoted their favorite phrases while out shopping just the other day.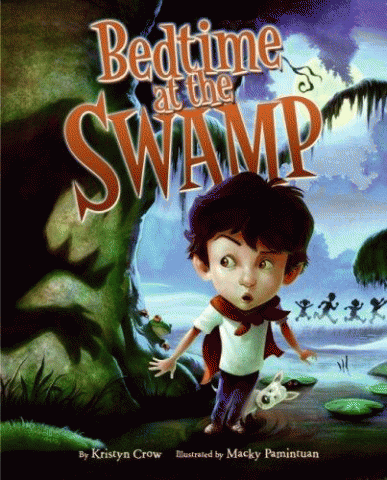 Bedtime at the Swamp is a fantastic bedtime story. Short rhymes and lots of fun. The illustrations by Macky Pamintuan compliment Crow's text exceptionally well. Bedtime at the Swamp is about a little boy who is supposed to be going home to get ready for bed, but instead ends up hiding from a monster. It sounds scary, but it really isn't. In fact, the monster ends up hiding with him. I think kids are more likely to giggle at the end of this book than be scared.
My kids' favorite line
Splish Splash Rumba-rumba bim bam BOOM!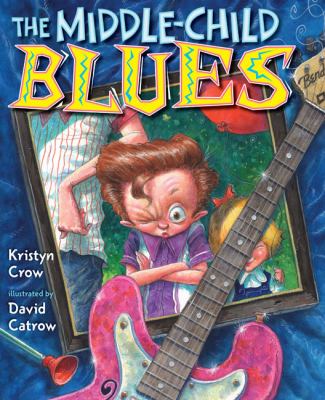 The Middle Child Blues illustrated by David Catrow is just like the title reads,  a story about all the woes and struggles of being a middle child. Lee is told a little too often that he is too small, too old, too young and so forth. This leaves him  sick and tired of being stuck in the middle. To cope with all this middle childness, Lee gets out his guitar and sings the Middle Child Blues. My children once again love Crow's rhyming and catchy rhythms that go with the classic blues. In fact I wanted to sing through the book.
My children love the illustrations and now my 2.5 year old wants a guitar for his birthday. They couldn't agree on a favorite line so you'll just have to read The Middle Child Blues to pick your own.
As mentioned, I am doing a giveaway. I was given an autographed copy of each book by the lovely Kristyn Crow (I don't want to admit how long ago, but you know I've had a baby,  dealt with a daughter's health issues, finished a book and moved) still, even with all my excuses this is long overdue.
Kristyn Crow's website. Check out her other books Cool Daddy Rat, The Really Groovy Story of the Tortoise and the Hare and more.
Macky Pamintuan's website. Macky illustrated Bedtime at the Swamp and he did  illustrations for Flat Stanley as well as Nancy Drew and the Clue Crew.
David Catrow's website. David illustrated The Middle Child Blues and also  Stand Tall, Molly Lou Melon and lots of other fantastic books.
Giveaway details
More then one entry possible. If you enter more then once you can leave one comment telling us everything you did to enter.
1. Make a comment about your favorite bedtime story.
2. Tweet about our giveaway and leave a comment to tell us.
3. Like our Facebook page and leave us a comment to tell us.
4. Post our giveaway on Facebook and leave a comment to tell us.
Bookscoop's giveaway is limited to the continental United States only. The winner will be randomly chosen and notified shortly after the close of the giveaway. The giveaway will close at midnight, MST, Saturday, January 19, 2013. First person chosen will win Bedtime at the Swamp. Second person will win The Middle Child Blues. We will make reasonable attempts to contact the winner, however if the winner cannot be contacted we reserve the right to randomly choose another winner.