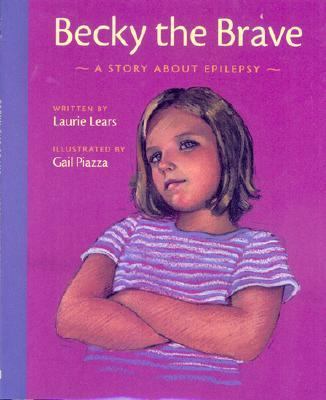 Becky the Brave: A Story About Epilepsy by Laurie Lears and illustrated by Gail Piazza is the only book I could find at either public library system in my area. I of course had to get my hands on it and within a week of my daughter's diagnosis we were able to check it out. Gratefully, Lears does an excellent job in this book and my daughter really liked it. I tend to turn to books in times of crisis. Actually that's probably an understatement, I look to books all the time to deal with life events. When my husband and I would ask her if she had any questions she would say 'no'. However, after reading Becky the Brave she asked question after, after question, after question. I believe what Becky the Brave did for her was give the vocabulary and a story back drop in which to place her own experience with epilepsy. My daughter does not remember her seizures, which we are grateful for, but it does make it difficult to understand why all the fuss. I am so glad that our library system had a copy of this book.
The basic story is about two sisters, Becky the older one who has epilepsy and who is brave. They have recently moved and are attending a new school, which Sarah is not excited about. It is told from the point-of-view of her little sister Sarah who obviously adores her big sister. Becky is brave and not shy and even stands down a vicious dog when they are walking to school. Sarah also describes how brave Becky is in dealing with epilepsy and describes what happens then Becky has a seizure. One day Becky has a seizure at school and doesn't want to return because she is afraid people will make fun of her. Sarah however turns out to be just as brave as her sister when she goes to get Becky's homework and then talks to Becky's classmates about epilepsy and how it just one part of her sister. Becky's classmates, like a lot of people did not understand what was happening and needed some explanation of what epilepsy is and how to deal with it.
I would highly recommend this book for use with children with epilepsy or in a classroom to help other children (and adults) understand what epilepsy is about. I read this book to her class at school as well our church's children's group to help other children understand and be prepared in the event of a seizure. Lears does an excellent job with the research and I feel her portrayal of epilepsy is accurate. Gail Piazza's illustrations definitely added to the text and helped add to the understanding of the whole story line. My daughter spent a lot of time studying the pictures and I think she does a good job of portraying a seizure without making it seem scary.
Visit Gail Piazza's Website.
What other books to people recommend for children that deal with epilepsy or other issues?
This post is part of Bookscoops efforts to raise epilepsy awareness and is included in our Purple Day Challenge.