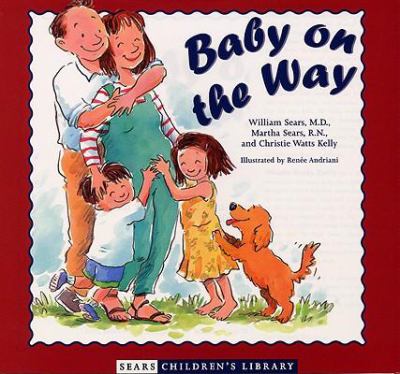 I thought in honor of my sister Holly's recent bundle of joy and to announce the upcoming arrival of baby #3 for my family I thought I would review Baby on the Way by William Sears, Martha Sears and Christie Watts Kelley. I used this book with my oldest when we were expecting baby #2 and I really liked it. It's my favorite so far in explaining to children what happens when you get a new sibling. Rather then focus on sibling jealousy, which is often an issue with a new baby, this book focuses on the child being an older brother or sister and what they can do to be part of this experience. From the first page.
When a new baby grows inside your mommy, her isn't the only thing that is changing and growing. You are growing up – becoming an older brother or sister.
I love telling my children that they are becoming an older brother or sister, my 6 year old just beams. We really like the side boxes entitled What You Can Do and Answers for the Very Curious. The first gives suggestions as to what the new older brother or sister can do such as looking at pictures of when they were a baby, drawing pictures of what the baby might look like and going with mom on some her doctor or midwife visits so they can listen to the heartbeat. The second gives some brief explanations for those children who want more details and it explains things in an age appropriate way.  In addition I think it helps prepare children for the time mom spends away when the baby comes by explaining that it's hard work so she will need to go to the hospital and you get to go somewhere else or someone will come stay with you.
One of things I appreciate most about this book really helped my first daughter adjust to baby number 2. Of course we did deal with the jealousy issue, but it help to give her an explanation and she felt more involved in the process. I believe it would be a much harder transition for her without this book.
What books have you found helpful to prepare older siblings for a new baby?
This post is part of nonfiction Monday hosted by In Need of Chocolate.