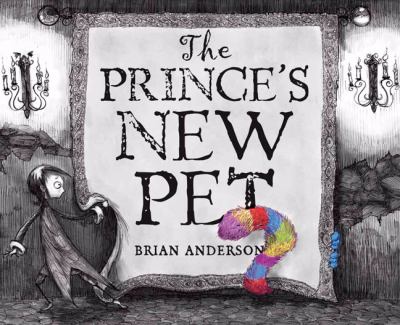 I love graphic novels. I love picture books. This is not a graphic novel, but it appears to be a magical creative blend of graphic/comic/picture book. It reminds me of a comic in picture book form. Fitting, since the author and brilliant illustrator, Brian Anderson is also the comic artist for Dog Eat Doug. My third grader just finished reading two of the Lemony Snicket books and this brings to mind a similar dark feel- everything in Prince Viridian's life is so dim and dull. Since his mother died and King Cerulean became depressed- the color has just gone out of life.  The color catcher is an evil being that nightmares are made out of, and he's done his job so well, that there is no color at all. Until the prince gets a special present.
I think this book has a myriad of applications to life. It may have a place in child psychology as an opener to discussions about feelings of sadness and depression. It can be the basis for in-depth discussions with your own children- whether at home or in a classroom. It's interesting how much literature gets picked apart to discover hidden meanings, an author's agenda, or that sort of thing. I wonder if Anderson had anything particular in mind or not? Sometimes the story just comes and you go with it and think about hidden meanings later.
I highly recommend The Prince's New Pet. I'd love to hear your thoughts. Have you ever felt like the color has gone out of life? How do you get the color back in if it's left? It's an interesting question to pose to children and adults alike.