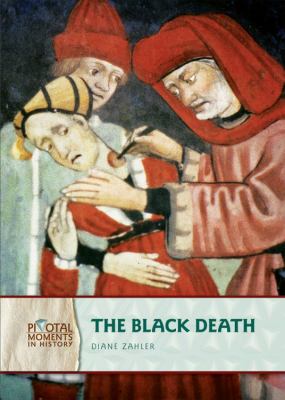 I've had a strange fascination with the Black Death since I first heard about it in High School. My parents went on a trip to England when I was a Freshman, and in the search for some old family villages, stumbled upon Eyam, Derbyshire, England- a place where the plague decimated the population in the mid 1600s. Our family came from the survivors. I remember reading about plague parties where people wore masks and danced until everyone succumbed. There was a lot of superstition and fruitless efforts to be saved from this ruthless bacteria. So, imagine my surprise at discovering this plague book when I was researching Zahler's work in preparation for reviewing her novel, A True Princess a few months back. As soon as I heard about it, I knew I wanted to read it.
Besides the sordid subject, (which in and of itself is riveting!) I found myself enveloped in non-fiction, novelic prose that made this book a great read- I don't like dry history. My biggest frustration was trying to flip between the story and maps and some of the places I wanted to find weren't on the maps! Despite this minor frustration I found the book very informative and enjoyable. I know that sounds almost sick to say. What is wrong with me? I think studying the plague is almost as infectious as the plague itself. I emailed Ms. Zahler, and it seems she has been fascinated with the topic in much the same way. Did you know the plague is alive and still rears it's head in the modern world? Luckily, we have antibiotics, and once an outbreak is identified, we can quickly bring it under wraps- with only a few casualties. A small comfort when we know terrorists are interested in biological warfare!
I think that teachers and schools would greatly benefit from incorporating this book into their curriculum. The pictures are engaging- artistic interpretations of the horrible suffering and gruesome realities of the Black Death. Zahler's book focuses on the first great plague, not the later one that first peaked my interest. However learning about one is very much like learning about the other, as both times it reared it's ugly head, things were. . . shall we say, pretty ugly? Yes, quite ugly indeed. I also think that those who, like me, have been  bitten by this 'plague fascination bug' would find this book a worthwhile investment in history.
Top lessons I learned: Don't eat Marmots. Try not to get bitten by fleas or rodents. Clean up rodent messes with masks, gloves and disinfectant. The coolest lesson I learned was that if a Mother doesn't succumb to the plague, her children have a better chance of surviving. So, Moms, take care of yourselves. Your family is counting on you.
Have you been bitten by the plague fascination bug? Do tell . . .