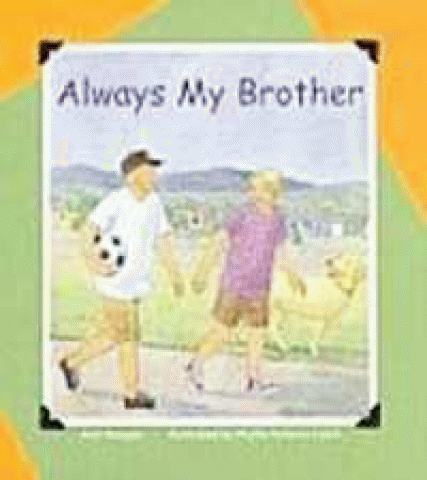 I am thrilled to host author Jean Reagan, whose book Always My Brother deals with sibling death. I thought this interview would be fitting for Memorial Day as many of our thoughts turned to our loved ones who have past on. I hope you enjoy getting to know Jean as much as I have she has a wonderful personality, fascinating life (she's lived in Japan and spends the summer in the wilderness) and a sense of humor all the while taking on a topic that is just plain hard. In her own words, "I wanted to honor siblings for the devastating loss they face and to offer them realistic hope." I am also looking forward to reading her new book, How to Babysit a Grandpa. Thank you Jean for spending a little time at Bookscoops!
1. Tell us a bit about yourself so people can get to know you.
I was born in Alabama, but I lived most of my childhood in Japan.  So as you might expect, anything Japanese intrigues me still.  (especially Japanese food!)
For the past ten years, every summer my husband and I move to a tiny patrol cabin in Grand Tetons National Park's backcountry where we serve as wilderness volunteers.   The cabin has no running water or electricity, and there are bars on the windows to keep out bears.  We love being surrounded by nature.  We also love meeting hikers and campers from all over the world.
As I hike or canoe, I keep my eyes and ears open for wildlife and for story ideas.  You never know what you might encounter around the bend!
2. Death of a family member is such a hard subject to write about tell us why you chose sibling death for your first book?
In 2005, after a roller-coaster year of hopes and setbacks, our nineteen-year old son, John, died of a drug overdose, leaving our seventeen-year old daughter, Jane, as an only child.   As we faced our grief, I watched how the death of a sibling is discounted.  People offered me (and my husband) comfort, but rarely seemed to acknowledge Jane's tragic loss.
Through research I learned that sibling death is often considered the unrecognized grief.  Surviving siblings are sometimes even admonished to be "extra good," because their parents are grieving.  In ALWAYS MY BROTHER I wanted to honor siblings for the devastating loss they face and to offer them realistic hope.
Because ALWAYS MY BROTHER is a picture book aimed at a young audience, it does not mirror our own family story.  For example, I made the characters much younger.  Yet the book taps into the emotions and experiences of our loss.  For example, I made sure to include a returning-to-school scene, because that is a particularly tough step for grieving children.
3. What books did you like reading as a child?
I LOVED being read to, but learning to read didn't come easy to me.  I still remember my excitement when finally in third grade I actually enjoyed reading a book, SMILING HILL FARM.  It felt magical.
Some of the picture books I loved were anything by Dr. Seuss, MILLIONS OF CATS, and THE GOOPS.  I read a lot of Japanese comic books, too!
4. What tips do you have for aspiring authors?
Read, read, read, especially the genre you want to write. Join a critic group. Enter writing contests to create deadlines for yourself and to find encouragement along the road to publication. If your writing genre is picture books, join us for the annual Picture Book Marathon in February.  Last year we had over four hundred participants from all over the world.  There is no cost.  The website is www.picturebookmarathon.org.
5. As a parent and author what are some of your favorite tips to encourage children to read?
Regularly get piles and piles of books from the library.  (Why don't libraries have shopping carts?) We did without a TV for about seven years when our kids were young.  It meant our house was never tidy, but we sure did read a lot.
But even with all this family-reading time, our son struggled to learn to read.  I had a lot of empathy, because of my similar struggle.  Eventually he found the magic by pouring through the CALVIN AND HOBBS books.
6. What are your current writing projects?
Spring of 2012 my next picture book, HOW TO BABYSIT A GRANDPA, will be published by Knopf.  I'm thrilled to send a purely happy, silly book into the world.  Several weeks ago I saw Lee Wildish's illustrations for it.  His artwork is fabulously quirky.  Perfect!
I'm in the early stages of two other stories:  one about an outing to a park with a father and young toddler, and another one about a new sibling.  I find picture books so tricky to write, requiring countless number of revisions.  My critique partners definitely keep me going with their insights, humor, and encouragement.
For more about me, my writing process, my grief journey, or my summer life, please visit www.jeanreagan.com.