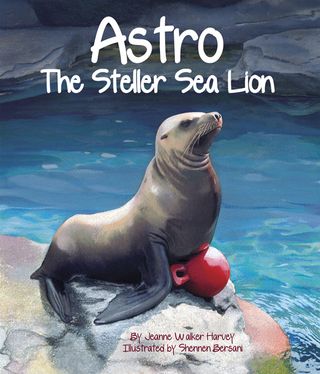 Winner of the Mom's Choice Gold Award!
Sea Lions are adorable, and Astro is the perfect poster boy for his species- Steller Sea Lions. Many, if not all of us love stories about chubby round baby animals, and little Astro will pull on anyone's heart strings. Here's a quick summary: Poor Astro is found as a baby without his mother, and after being cared for by The Marine Mammal Center in California, he is returned to the ocean. But, Astro is not happy to be kicked out of his comfort zone! Having imprinted on humans rather than Sea Lions, Astro works hard to make his preferences for human society known by traveling over 27 miles to reach the people that he loves again. And again. So, while he would be the perfect poster child for Sea Lions, I'm sure Astro would probably illustrate himself as a human poster boy, if his little flippers could hold a pencil, anyway. And if that happened, Jeanne would have a whole other kind of picture book to write.
Jeanne's debut as a Picture Book Author is well-done. She has some definite teaching skills, which Sylvan Dell has definitely taken proper advantage of. And illustrator Shennen Bersani's pictures leave me wishing for a vacation to the coast right now.  It's amazing how realistic her illustrations are done- especially when you know that she uses colored pencils, crayons and paint. I'm impressed!
A Great Classroom Tool:
This would be a great book for a classroom unit on Math or Science, among many other options. Another big plus for teachers, educators, and even families is the additional online resources and support at www.SylvanDellPulishing.com. Astro now makes his home in Mystic, Connecticut- so if you have any plans to head that direction, you should go visit him and definitely pack this along as a souvenir. I think this would be a fun addition to a family trip to any coastal retreat or aquarium. But, then again, I'm all about reading. Add it on to anything, and it's a great addition!
*Note: I received a review copy of Astro the Steller Sea Lion courtesy of the author Jeanne Walker Harvey. Thanks, Jeanne, for the opportunity to review your adorable book!